Make a diary note now, for a weekend masterclass at New Zealand's The Farm at Cape Kidnappers in August, with one of the greatest floral artists of them all, royal florist Shane Connolly, who just bagged the gold medal at this year's Chelsea Flower Show. Also, included in the top course is Bruce Keebaugh, Australia's leading party maestro and owner of The Big Group.
A weekend is the perfect amount of time for a course. It's not too large a commitment of time (or cash) and not too embarrassing or gruesome if you discover, very swiftly, that your dream of being the next Martha Stewart is pie in the sky. Above all, weekend courses are great fun. They provide the opportunity to meet like-minded people and are a great chance to travel to stunning locations such as New Zealand's Cape Kidnappers, which we highly recommend.
At this workshop, you'll learn how to use all kinds of seasonal local flora plucked from the woods, the garden, the roadside and the vegetable patch rather than the usual polite cluster of roses or calla lilies. Big deal you think, well it is, according to Connolly who designed the beautiful flowers for Prince of Wales and Duchess of Cornwell wedding in 2005 and the Duke and Duchess of Cambridge in 2011. Clients also include Victoria & Albert Museum, Royal Academy of Arts, plus flowers for the best houses in London – his masterclasses are apparently legendary.
Connolly will explain why you'd be far better keeping it simple with fresh-from-the-garden, loose and fluid arrangements of ferns still unfurling, flowering basil, and pretty bulbs that hark back to simpler times with an ecological consciousness. Blooms with a connection to the season and the place. Things that show you are interested in nature.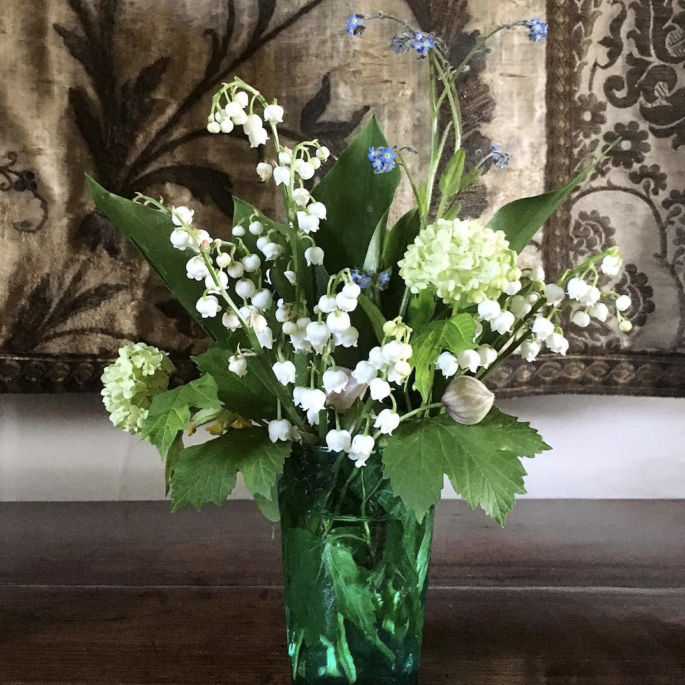 In a recent article in the weekend's FT, Connolly cites 'The Abundance of Less', the title of a book by Andy Couturier, as being his new motto. And how life can be simpler, happier and more in tune with nature if you go with the seasons when arranging flowers. And choose blooms with a scent. You want your flowers to look as natural as possible, not as if they have just come out of a glasshouse.
"I understand that a wedding, (or party), is an excuse to celebrate in style", says Connolly in a recent FT weekend article, "But some take this to a whole different level. At one widely reported wedding at a UK stately home, last year, there was a river of white roses topped with a froth of phalaenoposis orchids, spilling though rooms and out across ancient terraces, to completely line the walls of a vast marquee with floral tsunamis. I doubt that any of these flowers had ever seen a garden in their glass-housed lives. They are the factory-hens of the floral world, and I when I see this sort of thing I don't see flowers at all: I see cash. Inestimable flowers have somehow become computable commodities. "
"And I don't know if I like it." He advises we choose flowers with a scent, that are in season. We want our flowers to look as natural, spontaneous and authentic as possible, not as if they have just come out of a glasshouse.
Connolly is clearly not into flowers that have been jacked up on fungicide, dunked in vats of preservatives and manhandled for about a week, to create odorless, uniform, sturdy flowers with an enormous carbon footprint for our homes. It really is about letting our flowers be wild, unstructured and garden-inspired.
Also, included in the weekend workshop is Bruce Keebaugh, who has masterminded parties for Gucci, Tom Ford, and regularly works with the Royal families in United Arabs Emirates, Qatar, Saudia Arabia, Kuwait and Bahran, plus extravaganzas from Capri to Buenos Aires and Jaipur. It's a top course, that will change the way you decorate, entertain, and live in your house.
Stylish Celebrations Weekend with Shane Connolly + Bruce Keebaugh Weekend. Event COST is NZ$2,550 (+gst) per person, based on double occupancy and includes:
Two nights' suite accommodation at The Farm at Cape Kidnappers
Friday night welcome cocktail featuring a welcome by the weekend hosts Shane + Bruce
Pre-dinner drinks and canapes, full daily breakfast and complimentary non-alcoholic mini-bar
A la carte gourmet dinner on Friday
Floral design workshop on Saturday morning by Shane Connolly
Party and events masterclass presentation/discussion by The Big Group's Bruce Keebaugh
Tasting menu dinner on Saturday night, with floral designs by Shane Connolly and wines to match
Guest's choice of a day of unlimited green fees OR a 50 minute spa treatment per person per stay
For full details of the Stylish Celebrations weekend, visit the Cape Kidnappers website at https://www.robertsonlodges.com/exclusive-offers/lodge-events
SaveSave
SaveSave
SaveSave
SaveSave
SaveSave
SaveSave
SaveSave
SaveSave
SaveSave
SaveSave
SaveSave
SaveSave
SaveSave
SaveSave
SaveSave
SaveSave
SaveSave
SaveSave
SaveSave
SaveSave