Christmas is coming…and the festive season we all deserve. Our homes which have had to function as sanctuaries, offices and everything in-between look set to become places of celebration this year. Despite Omicron adding a layer of anxiety – most of us are taking personal responsibility to create a great Christmas spread rather than a super-spreader event.
Remember, our rooms transformation isn't just about Christmas – the social events before and after are just as important. And  whatever you get up to for Christmas and the holidays, we have lots of ideas to set the mood. Read more, 'A Guide to All Things Christmas.'
To get the champagne corks popping…on Christmas Day and the holidays.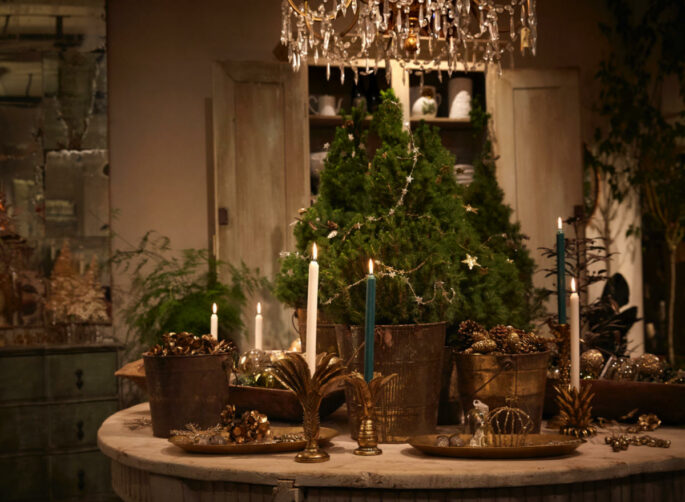 Our preferred hour for Christmas parties is the evening because you have time to get ready for it. Photo: Petersham Nurseries.
For many of us, this festive season comes at a time when many of us are only just getting back into the swing of hosting – dusting off those social skills and blowing away the conversational cobwebs can be a real pleasure.The annual tussle of festive excess has begun. Tinsel, dazzle and merriment aplenty, Christmas 'tis the season for entertaining – and therefore, one-upmanship. Avoid flashing fluoro Christmas lights and sparkly ornaments. They are anything but chic…Nothing says so much about a family than its Christmas decorations. One thing's for sure, money can't buy taste….
Christmas Day – like any big family occasion – is formed of traditions. Many of which will be inherited – and therefore any traditions which differ to your own are likely to be deemed incorrect. Take lunch. Gen Z cooks are trying to side-step the big issue of turkey and, even worse, do without Christmas pudding. We have ideas to make your Christmas lunch or dinner less boring. Because let's face it…Every year, the meal is a lot of the same. Here are ways to add brightness, crunch, and freshness to lunches.
Ditto your interior!! Read more, '4 Secrets to Throwing The Perfect Holiday Party.'
2021 is about celebrating us all being together and being really grateful. The idea is to create a look that's special but also personal…
The best parties are being organized at the last minute, with little advance notice.
People want to go back to living, they want to learn how to live with this thing. So here's to having the Christmas we all deserve, at last. And ideas for hosting a crowd and festive decorating inspiration to help you do it in style. Turn up the Christmas playlist. It's definitely time. Almost. Read more, 'Turn off Your Phone This Christmas.'
The Garden is the Most Important Room of the House
And the most important room at a Christmas party. At night, you can create so much drama and anticipation as people move through the garden, into the house and outside again. It allows your guests to move through spaces, with bars and seating set up in different areas, providing a reason to drift and create the opportunity for serendipitous meetings and conversations. What's lovely about the outdoors is that it is naturally more informal than being inside, it feels more playful. Create seating areas with safari chairs and bamboo tables to relax.
The sign of a good party is people never looking at their phones.
The Carpe Diem Approach 
We are fans of the last-minute soirée when it comes to this time of year. It's friendlier, and you don't spend time worrying about whether or not it'll work or whether people will be able to come.
The Best Holiday Parties
One of our preferred moments on the holiday calendar is the days between Christmas and New Year – no one has plans then if they're not going away. Our preferred hour is the evening because you have time to get ready for it. Lunch rolls around so quickly and it gives you a whole day to prepare. Also, people are more beautiful in the evening, lamplight is kinder. Read more, 'The Last Minute Hostess: How To Fake The Perfect Holiday Party.'
Parties can't look over organised. Or under organised. It's got to look as if it's all been thrown together magically, at the last minute and decoration must be fresh.
There's something rather annoying about decorations being up for ages. We like just-picked ivy, holly and fir.
Picked in the garden, or streets around your house, or grocery shops and combined with oak leaves, arranged anywhere it's going to improve the general look of things.  Then add baskets of hydrangeas and red apples, mixed with masses of normal candles, some real, some fake. Put fake candles in the garden as well – the aim is to make it rather mystical. Read more, 'Time Tested Tips for a Stress-Free Christmas.'
The Event
When you've decided on what you are inviting guests to – a standing soiree, aperitif drinks or dinner – you can start thinking about how to best decorate it. Don't overcomplicate things. Use beautiful glass tumblers on rattan trays to serve both sparkling water and wine, and easy, starched linens are beautiful in a garden, a small wrought-iron table to put drink glasses on are useful, large chargers with delicious dippy things on a serving table is easy if people are standing. Try to separate food and drinks tables for the best flow in a space. Don't be afraid to ask people to dress up, but also consider what is comfortable to wear given the setting. Black tie in sweltering heat is just silly. Read more, 'When The Next Generation Has To Step Up For Christmas.'
Drinks should be flowing and make sure you mix people up.
Festive Invitations
We love electronic invitations because they are efficient and affordable, and by affordable we don't mean low quality. A great invitation does much more than announce the event: it's the stage for your vision, and it's your opportunity to put that vision into your guest's minds early on.
The Dress Code
It is one of the best-kept secrets. We don't often consider the impact of it, but dressing well can create excitement and energy in a group. You want something that adds to the sense of occasion and ups the festive edge. And what to wear on Christmas Day – the most magical day of the year? After all, you'll be photographed in your selection and not able to rectify a mistake for another 365 days. Whatever your festive look is, make sure you're dressed to impress.
Hosting should bring theatre at this time of year.
A Well-Set Table
Your table setting creates the atmosphere and can spark conversation. Use things from around your home. A house is like a museum of you — the places you've been, the things you've collected or inherited — and the table is a microcosm of that. Read more, 'How To Set a Stunning Table.'
The Golden Rule for a Good Christmas Party
Make sure you aren't so tied up with your hosting duties you forget to spend time with everyone this Christmas.  If you're worried about tearing yourself away from the prep, this can still come in the form of greeting guests at the door, passing around canapés, or refilling drinks. While it's your job as a host to ensure family enjoy themselves, this doesn't mean you shouldn't too. The other thing you absolutely cannot do is skimp on alcohol or food. As the night wears on, people really don't care what they're drinking as long as their glass is full. Read more, 'How To Be The Perfect Host.'
You shouldn't feel you have to buy bottles and bottles of expensive wine. The later it gets, the cheaper the grog you're serving can be.
Seating Plans: Yes or No?
Seating can play a key make or break role in the success of your night. For a meal, we prefer a seating plan as spreading the most interesting guests around the room creates multiple anchors for the social energy that is the nectar of a great night. Read more, 'The Politics Of The Dinner Party Seating Plan.'
With the stroke on a place card, you can frame an entire day.
Most people are either great talkers or listeners (only the rarest individual is both, and they get invited everywhere), so by interspersing the socially facile with the less so, the shyer guests often drop their reserve.
Gifts Galore
Under the tree might be the traditional spot for stacking present but when they're so beautifully wrapped why hide them away. Make an abundant display of your packages and parcels and they'll double up as decoration in their own right – just make sure to coordinate your paper.
Let's Indulge
Go for rich musks and frankincense fragrances. Nothing too citrus at this time of year. Turn the house into a generous grazing zone for loved ones. Christmas calls for indulgence, after all.
Lighting
A way to instantly boost the festive mood is to play around with lighting. Gather lots of candles to create a low-level glow.
Holiday Atmosphere
The key to a successful gathering is to create a naturally warm and humble atmosphere. This energy is what draws in the best crowd, the best conversations and the fun. Turn the house into a generous grazing zone for loved ones. Christmas calls for indulgence, after all.
We recommend tablecloths as they make everything feel fresh and create a good landscape for the table.
Don't be afraid to mix strong colours. The flowers should be kept low which is why we love using vases of all sizes which you can dot around the table. You can mix your flowers creating a sort of "mixed border". Candles or hurricane lamps are of course a must. We also like using small side tables which are very useful when you have too many dishes. Read more, 'How To Host A Sparkling Dinner Party.'
The Sides:
Holiday side dishes don't need to be fussy. Keep the shopping and cooking simple so you can enjoy the day. We prefer simple recipes that call for only a few ingredients (not including salt and pepper), so you can get the meal on the table and get to the best part: eating. Consider brussel sprouts, walnuts and pomegranates which are really just a matter of roasting the sprouts with a little olive oil, salt and pepper, then tossing with chopped walnuts and the ruby seeds. Roasted green beans with lemon zest and crisped pancetta is a simple, yet special side dish. Read more, 'Why Christmas Is About Food.'
A scattering of pomegranate seeds makes anything look fancy.
A cucumber and avocado salad is another great salad with, lemon juice and red pepper flakes, mint, dill and of halved cherry tomatoes if you're feeling it. You can't go wrong with classic creamed spinach which gets top billing in most restaurants. Or a green bean, artichoke and radicchio salad. If you're looking to up your game, add fresh thyme or chopped rosemary before pouring it over the potatoes. Bump up a green bean casserole by adding roasted mushrooms and a parmesan-based cream, with Cajun spices and nutmeg. Roast root vegetables seasoned with sage.
It's not often that carrots get a starring role on the dinner table, but when they're roasted with olive oil, thyme and oregano, they'll steal the spotlight. Use Dutch carrots if you can.
Potatoes au gratin is a holiday winner – make sure you season as you go so that each slice of potato has flavour. (Potatoes suck up a lot of salt.)
The Dessert
Be extravagant with lots of plum pudding served with chocolate and pear pavlova. Make the dessert ahead of guests arriving so there is no time away from guests in the kitchen. Also if anything needs to go in the oven, make sure this is done prior to sitting down for the main course.
 The best parties have lots of alcohol and a dose of luxury with rich chocolate cakes and the most spectacular puddings.
How Can you make a Big Impact on a Budget this Christmas?
Hospitality means making people feel good, and everyone feels better when they look their best. You can never have too many candles, so atleast quadruple the number you think you'll need. For a warm flattering glow, aim for a mix of tapers and votives scattered the length of all your tables. People are sometimes afraid to misbehave under bright lights but they're turned down low, you never know what the night might do. Read more, 'The Broke Person's Guide to Getting Christmas Ready'
Lighting is everything, the easiest, least expensive thing you can do is turn down the lights and use candles. Instant drama. Instant romance.
Ideas for New Christmas Decorations
We always think there is nothing more interesting than what you already own in new ways. Interweaving treasured objects and heirlooms into tablescapes is the recipe for a look that's meaningful to you.
What's the easiest way to create a festive atmosphere? Music, hands down. It sets the tone and puts guests in your desired mindset from the get-go.
Thoughtful Festive Planning
It's easy to have big ideas and be overly ambitious, only to find you are busy and Christmas day becomes a race against time. Think ahead – get as much planned upfront. Enlist the help of a cleaner/spouse/partner/child to clean the areas your guests will be using, well before the guests gather. A mistake people often make is menus that require them to be in the kitchen when guests arrive. If food is mostly prepped, you can just run things through the oven, and bring them to the table. Prepare a delicious meal in advance with showstopping in season sharing dishes.
Go for make-ahead recipes that will save you on Christmas Day. A little planning goes a long way to help a holiday meal come together easily. 
When planning a holiday menu, it's important to take into account time and real estate as much as taste. What will fit in the oven or stovetop on the big day, and what can you make in advance? Whether cooking for one, two or a few, get ahead with a little planning and strategy, and your day-of tasks will be minimal. 
Make it a few days in advance to enjoy as a simple Christams lunch while the main meal comes together, or serve small portions as a warming canapes.
To keep organised, have three lists. Your prep list notes should detail everything that has to do done before guests arrive, from putting the tomatoes in a certain pan to finishing the sauces. This list details every ingredient and piece of equipment you need to prep the dinner. Read more, 'Dinner Party Rules and Etiquette.'
Once prepping has finished, clean and put everything away and proceed with your second list, which details what you need to do and have at hand for serving food. Designate a "staging area" where you have all your plates and equipment ready to go. The third list is your cleanup list, which has everything you need to clean the area, including cleaning towels.
Bring that festive cheer into the kitchen. Pile up the kitchen table or benchtop with an abundance of something natural, however humble. Put lots of red apples in a beautiful bowl, a frilly lettuce in an urn, and an inexpensive bunch of kale or spinach in a vase, for a look that is festive and chic. Head over to our 2021 GIFT GUIDE for some Chrissy presents to rile up the reindeer…