You don't have to spend a fortune to do a quick makeover. Rip down old curtain poles, hang new roller blinds, mirror a wall, replace pillows, give your walls a lick of fresh paint. Here's a few quick, effective, ways to change the look of your rooms dramatically, that will take a lot less time and money than you think. Do them this weekend.
CURTAIN HARDWARE
New curtain hardware from slim bronze to brass or timber poles can set the entire tone of a space. Pull down those old rods that have made you miserable for ten years and replace with snazzy new-look designs in antique-look bronze finish.
ROLLER BLINDS
Give your room a new view with a roller blind. It can correct the entire proportions of space (small window, low ceiling and so on) by allowing your blind to be as wide and as high as the window should be, not as it is.  When you hang the blind, treat the window and the wall as one seamless surface. We like off-the-peg matchstick blinds at Bunnings – www.bunnings.com.au to affordable made-to-measure roller blinds at wynstans.com.au and high-end – check out our stories – blinds, and directory.
PERFECT PAINT COLOURS
Paint over that mission-brown paintwork that has made you unhappy for years. It will take less time and money than you thought and your life will improve dramatically. Take years off your rooms with a lick of fresh paint. Colour is the quickest was of adding warmth and character to a space and it's easy to change once you get bored. Paint can work wonders. Check out Dulux Paints here
CEILING FANS
For a remarkably modest price, an electrician can install a ceiling fan in anything from timber to steel with a distinctly modern aesthetic that will make you feel like you are on holidays everyday. Put one in your bedroom, a living room or wherever you spend the most time. It can change the entire mood of a space.
WICKER TRAYS AS WALL DÉCOR
Go on, hang those wicker trays on a wall. It's a really good way of decorating if you can't afford art. Think of a wall covered with African flat wicker trays grouped en masse. Very little money, but lots of style, culture, texture, and a great conversation starter.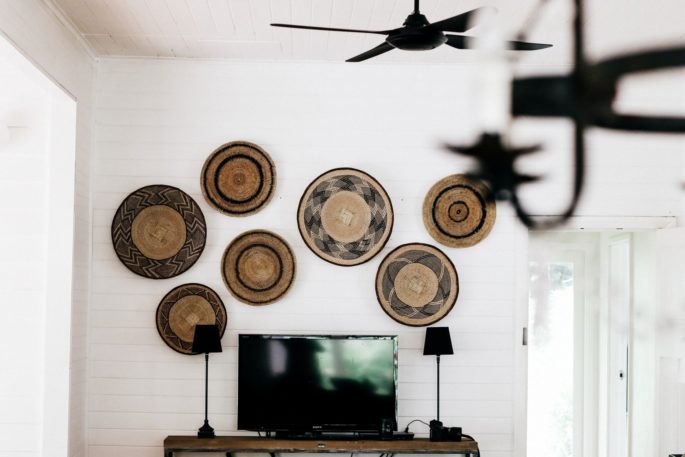 REPLACE PILLOWS
Buy some crisp white cotton or linen pillowcases. Arrange two flat ones, side by side. Add two Euro pillows. Bedding is the quickest way to change the look of bedrooms.
CREATE AN OUTDOOR ROOM
Try creating an outdoor room you will actually use. Don't buy an eight-seat table. Try five-star hotel chic with a sofa in proportion to the space where you can relax, read, gossip, cuddle, daydream or doze.
SaveSave
SaveSave
SaveSave