The hot furniture brand you may never have heard of, used by Melissa's daughter for her nursery? Several months ago, while travelling in New York, Isabella Walker-Smith sat in her hotel bedroom on her laptop, planning a new nursery. Isabella's nursery goal was to find a thoughtfully curated mix of essential furniture and baby items in one convenient online spot.
"The streamlined, functional nursery staples of my dreams," she says. Enter: Mocka.
Isabella, 31, is the founder of a business, specialising in beautiful interior pieces, and hers is the kind of home that inspires millennials to set up homes with a good mix of pieces, particularly if you're one of those parents who vowed not to let the house fill up with plastic junk, and mass-market blitz.
"It was a lot simpler than the endless baby must-haves on Tiktok, (or the unsolicited lists friends hand out) and it was also easy and quick," she says.
The lifestyle brand combines modernism with simple intuitive designs in metal, wicker, timber, rattan, with all kinds of up-to-the-minute finishes. "There's so much fluffiness out there. I wanted toned-down, which Mocka served up in spades."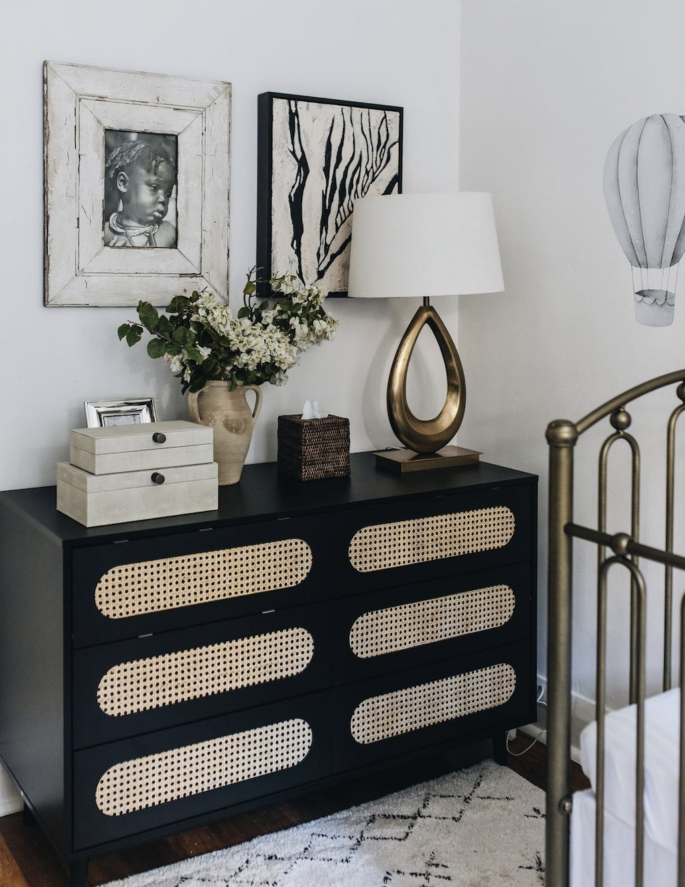 Claremont Six Drawer in Black, $429.99
The nursery had to be equal parts pretty and practical.
"It doesn't matter how pretty something is if it's going to get ruined," Isabella says. "Practicality is where I start when decorating spaces that my family can love and live comfortably in."
Besides selling furniture for the home and rugs, Mocka offers clean-lined contemporary nursery furniture in modern finishes such as brushed bronze and timber. Their pieces favour less conventional colours like green and mulberry, mustard and oatmeal.
In the case of the simple 1920s room with plain white walls, timber floorboards and a single French window in Sydney's Eastern Suburbs, Isabella chose the Josephine Cot in Bronze, $399.99, as her jumping-off point.
"If you can find that one thing that serves as your inspiration, it's such an easy way to tackle a room's decor," Isabella says.
Guided by the vintage Deco-style cot design with a glamorous brushed bronze finish, Isabella selected the coordinating Sonata Change Table in Bronze, $219, and extra-wide change mat, then set about giving the bedroom character for their baby without over energising a space meant to be serene.
"Unlike most couples today, we chose not to find out the baby's gender, so I was flying blind on the colour palette and decoration."
Mocka is about simple, elegant, low-profile designs with no unnecessary embellishments.
"I didn't want it looking too babyish. No pink. No blue. Apparently, 98% of parents now find out the sex of their baby. But we wanted a surprise – so I couldn't choose a specific shade up front."
A Mocka Morrocan-themed tufted rug called Romi instantly warmed up the room. "The minute we rolled out Mocka's Romi tufted Floor Rug in Cream, Extra Large, 2m, x 3m, $289.99, the room transformed before our eyes. The rug has cocooned the entire space.
The super-soft rug gave a bland space individuality, a focal point and was affordable but doesn't look it. "It was amazing value for money – a lifetime of pleasure for the same price of a Zara jacket."
This mostly neutral space is anything but boring thanks to the accent wall of hot air balloons teamed with Mocka throw rugs and baskets for personality including gorgeous pear-shaped wall designs.
The bronze cot and change table add warmth and texture and fit in perfectly with the rest of the interior. Terracotta jugs from Olive Atelier in Los Angeles hold silver and timber hair brushes and rattles.
A timeless Dimple sweetie soft Roman blind in white linen was made to measure by No Chintz. Mum said,  "You won't go wrong with No Chintz – it was the first to make upmarket bespoke window treatments accessible and is still one of the best".
No Chintz supplied the white linen and created a blind that corrected the room's proportions, treating the wall and the window as one seamless surface and hanging the fabric from the ceiling. The gorgeous natural fabric, in a pale tone, makes the room seem larger. We actually doubled up on window dressings with the Roman shade and a blackout blind combo for daytime naps.
Isabella has created a nursery full of style and soul, using Mocka foundation pieces mixed with a cornucopia of inherited pieces in characteristically imaginative ways.
The room features a multitude of millennial trends, including muted tones and materials: from black to stone, rattan, wicker, bronze, marble, timber, linen, terracotta — and plenty of texture.
But it still seems perfectly suited for baby Rupert who is now two months old. "I'm stunned at how much time Rupert and I spend in the nursery. It's such a tranquil, feel-good room."
The baby-friendly space also feels glam thanks to the additions of an antique French oak table with an original marble top, a fifth-generation piece, that belonged to Isabella's great-grandmother, French vintage mini stools from Olive Atelier in Los Angeles, mini crystal lamps with bespoke shades and art found in New York, by Emma Bahama, and late New York designer and tastemaker Nina Griscom's private collection.
Here are Isabella's top MOCKA picks that make nursery decorating cool:
Luxe and elegant, the Josephine Cot instantly anchored the room. The vintage style with modern safety is the perfect cot to create a unique style in a modern or traditional space. With tall, arched side panels, decoratively looped rails and metal beading, this vintage-inspired cot is a statement piece.
The Vale Cot Mattress is an affordable, quality inner-sprung cot mattress with a quilted poly-cotton cover. It has a standard American size that fits with the entire range of Mocka Cots.
As a tufted, extra-large floor rug, the Romi Floor Rug in Extra Large is perfect for large living spaces of your home. Made from a blend of cotton and polyester, this rug has a soft and textural feel underfoot, giving any floor a layer of comfort. The 200cm by 300cm size is wonderfully generous and makes this rug ideal for the bedroom, dining room, lounge room and other large living spaces in your home. We love the subtle tribal-inspired diamond pattern in gorgeous shades of black and cream for a look that is modern, understated, and elegant.
Isabella teamed the cot with the Sonata Change Table made in steel with a brushed Bronze finish for glamour. It's the piece we use most.  The timeless, vintage-inspired design features a wide changing tray, ideal for the Mocka Change Mat sold separately, and two spacious shelves underneath for all the essential storage – like nappies, wipes, swaddles and clothes.
Add a neutral, cosy style to your nursery with the Mocka Cotton Change Mat Cover in cream. Adding the right amount of style and comfort to your change mat, it's made from a lovely cotton gauze fabric. The creamy white colourway is always elegant and is the perfect touch to create a dreamy, on-trend nursery style.
The Claremont black six-drawer dresser with rattan panels is sure to grow with the child. Bold and luxurious, Claremont gives any space instant style, with a rich black painted finish and rattan drawer panels for a textured, layered look. home.
The Molly Fringed Cotton Throw Blanket in Ivory layers your home in cosy, chic style. Made from 100% cotton, it's soft and durable for everyday use. Providing the perfect extra layer to keep the chill at bay, this throw blanket is still lightweight enough to use trans-seasonally.
The Willow Pear Shaped Hanging Storage Basket in large and smaller sizes adds unique storage and decoration to your walls. Designed in the shape of a pear, this unique hanging basket is made from weaved willow and creates a playful décor element in any room of your house.
Black is a versatile round ottoman made from black rattan. A great way to add extra texture and colour to a space, this ottoman with storage has a tightly woven rattan body. Ideal for use as a footstool or side table by your sofa or armchair or as a decorative feature in a bedroom or other space for a touch of chic style.
Add some whimsy to your little one's space with the Dream Bunting and Blanket Set. This adorable decor piece has a playful design featuring hanging stuffed toys in the shape of rainbows, clouds, and stars. At 215cm in length, easily hang the bunting on any wall or corner of the room to delight your little one and make their space feel extra special.
The Mocka Linen Play Mat in Natural is a stylish play mat for tummy time and play. Super soft on your baby's skin, it's made from luxe linen with a cosy quilting for comfort.
Feel right at home with the Torrance Rattan Occasional Chair. The perfect extra seating in any living room, sitting area, or home office, this stylish accent chair adds laid-back, resort-style to your space. With its natural wood frame and rattan weave design, it's a true statement piece.
The Aiden Highchair in Latte is a modern highchair with a stylish design. Convenient and comfortable, this highchair features a padded seat for cushy comfort and a harness for extra safety. Its removable tray means getting your baby in and out of the highchair is uncomplicated, and cleaning it is even easier.
A dreamy hanging teepee, the Mocka Canopy is a coddling, romantic piece which you hang from the ceiling by a hook. You can then arrange the drops to be as long or short as the ceiling height allows. This way the cot (or bed) feels designed exactly for the room – with swaths of creamy white lightweight fabric over them, creating a whimsical teepee space where your child can read, play, and doze. It creates a comfortable and intimate environment in a room where a child might feel 'lost'.
Throw rugs are among your baby's essentials. Every baby and child should have a few throws to keep in their room as a Linjus blanket, adding warmth and comfort. Handwoven from 100% cotton, this throw rug has a cuddly and cosy feel with a tight, knitted weave.
The Southampton Cotton Rope Baskets – Natural adds textured neutrals to your decor, while stylishly organising your home. Made from a cotton blend fabric in a neutral colourway, it will easily suit any space and décor and will add natural texture to your home styling.