The IKEA catalogue drop is the Vogue September issue of the interiors industry. It's the big, important, once-a-year release from the Swedish furniture giant, who changed the way we think about furniture. The 2020 version goes live online this week – with hundreds of new products, ideas, and materials that focus on our core emotional needs. This year's concept is focused on getting a great night's sleep, so you'll find stacks of beautiful bedding plus items that will help you make any house or apartment a welcoming home, and bring joy to your space. Read more, 'Ikea is Opening a New Store in Sydney.'
Few people can claim to have genuinely revolutionized retail. Ikea has.
The Swede has come to embody simple, affordable furniture for the masses. Since it was founded in 1943, the company has transformed the way we think about how we shop for furniture, (how we put it together (ourselves) and how it looks (sleek, not stodgy.) With its clean lines and practical pieces, Ikea has outfitted millions of college apartments and brought a Scandinavian aesthetic into everyday homes.
The company, which has 412 locations in more than 40 countries, has become an international empire. Its sprawling stores with their tortuously winding routes have continued to thrive in an era of hurried online shopping. Read more, 'New Classics: 8 Ikea Pieces Love to Use (Over and Over).
Before Ikea came along, furniture shopping was a laborious task that a lot of people dreaded because they felt like they were making a decision they had to live with for 30 years. Then Ikea showed up and you could buy something and use it for a couple of years — or  keep it longer — but it isn't necessarily something you're going to pass down to your kids or your grandkids. That was a remarkable transition.
People today have varying ambitions for their homes, and differences in taste.
The latest Ikea research has discovered that one third of people today say that there are places where they feel more at home than the space they actually live in.  It has identified five core emotional needs which they believe people mean when talking about the feeling of 'home' – that calm, warm inviting place to unwind at the end of each day.
Starting with 'belonging' which is the feeling of being part of a group of people who accept you for who you really are and places that reflect you. Then, there's 'ownership', which isn't just about deeds and mortgages; it's about having a sense of control over the space and place you live.
'Security' is about feeling safe and grounded not about the locks on the door.
'Comfort' is about feeling content and at ease in your surroundings. Finally, 'privacy' is having control over where and how you can disconnect and reflect. When these five things are in place, you feel at peace.
We've found lots of desirable items in the 2020 guide that will help clarify who you are and how you want to live – to make sure home doesn't fall short of the ideal. From slim storage units for tight hallways to easy-to-install workspaces and under-bed storage that doubles as decor.
No matter how small your space might be, there's something in the catalogue to help your place work smarter and harder for you.
We rounded up all our favourite small living items below – which we can't wait to order. You can pick up a copy of the catalogue in-store from this week or check it out here: ikea.com.au
1. METOD/LERHYTTAN KITCHEN, black stained doors and drawer fronts with glass doors and soft-closing doors, Metod cabinet frames in white melamine foil. Lerhyttan doors in stained, clear lacquered solid ash veneer and glass doors. $2920, *Lead image.  ikea.com.au
2. HAVSTA STORAGE COMBINATION with sliding glass doors, $749. ikea.com.au
3. UPPVAKTA stoneware 13cm planters, $5.99. ikea.com.au
4. SYMFONISK WI-FI BOOKSHELF SPEAKER Marking a big moment for IKEA, the brand teamed up with Sonos for two new speakers, that—of course—serve as home decor too, that can become a little shelf or tuck neatly into your existing shelves, $99. ikea.com.au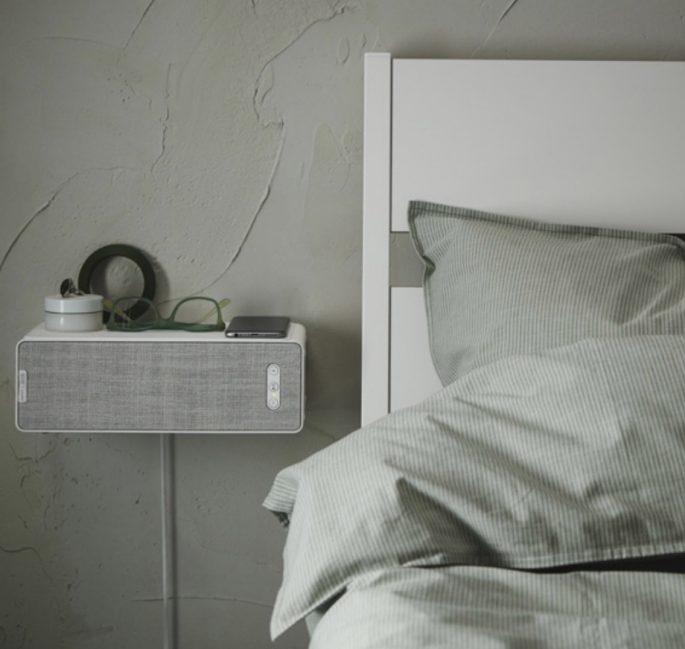 5. SYMFONISK TABLE LAMP We had to include the lamp as well, because we just think it's so fabulous, and it sounds amazing. $269, ikea.com.au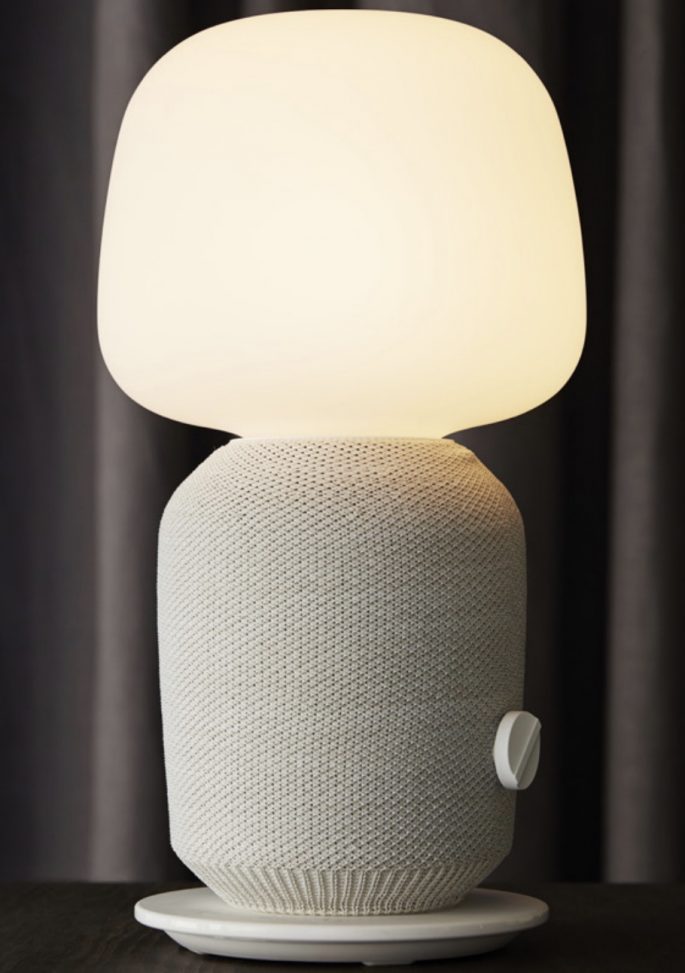 6. LUBBAN TROLLEY TABLE WITH STORAGE, $99, ikea.com.au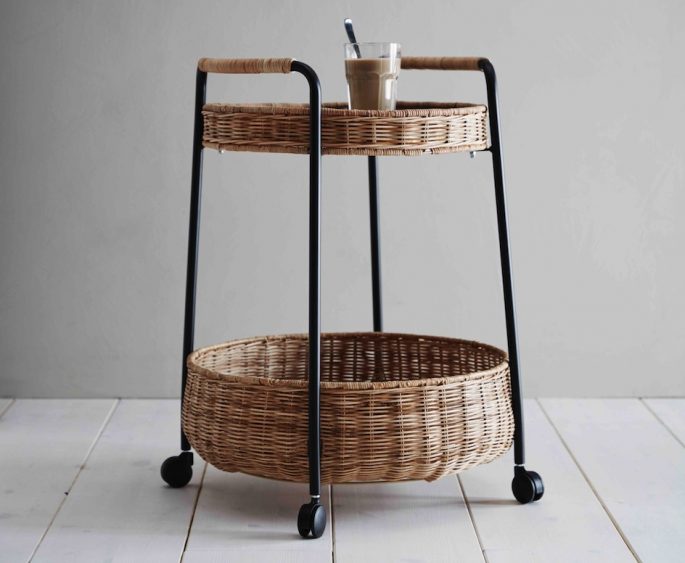 7. NILSOVE handwoven rattan armchair, 57cm x 82cm $119, ikea.com.au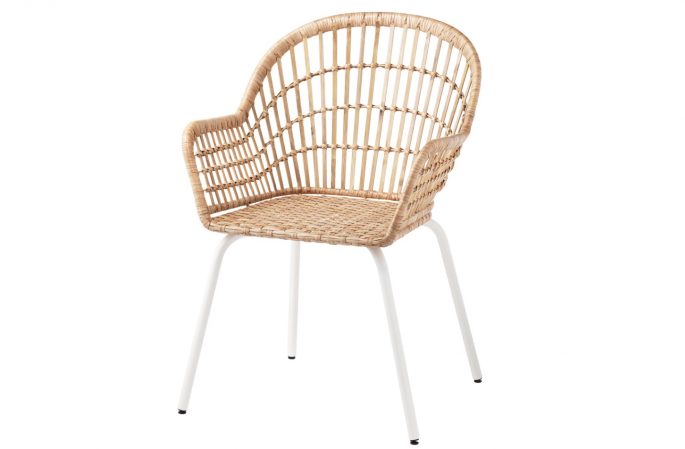 8. VISBACK POSTER HANGER, clear lacquer bamboo and powder-coated steel, 61cm x 3cm, $9.99. ikea.com.au
9. KUNGSBLOMMA QUEEN QUILT COVER SET, $49, ikea.com.au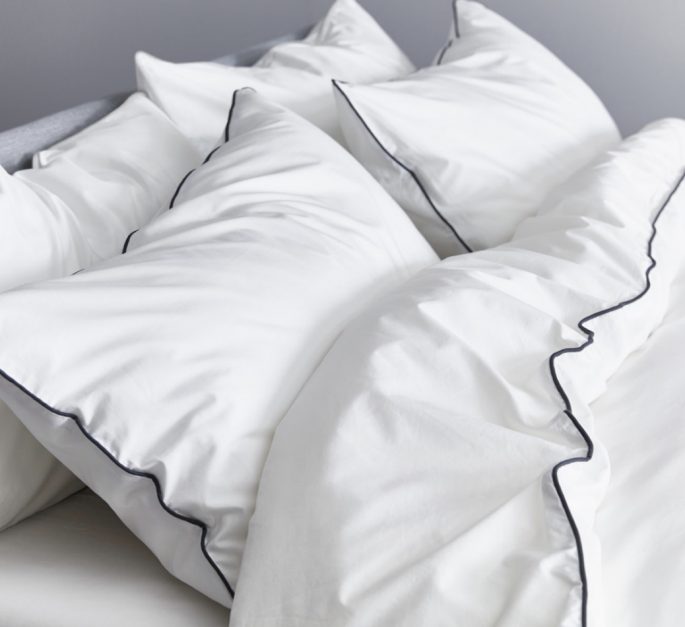 10. LIVSVERK VASE, glazed stoneware, $6.99 – $22.99, ikea.com.au
11. BERGPALM QUEEN QUILT COVER SET, in pure cotton, 200cm x 200cm quilt, and four pillow cases, $39.99, ikea.com.au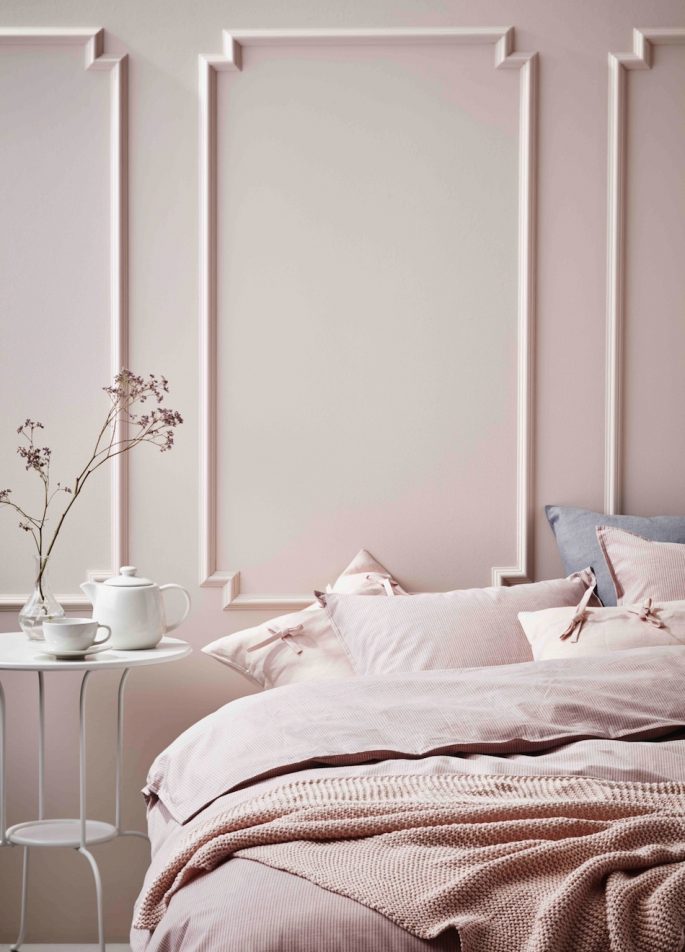 12. NATTJASMIN QUILT COVER SET, $59, ikea.com.au
13. SONGESAND CHEST OF FOUR DRAWERS, $229, ikea.com.au
14. OTTSJON SHOWER CURTAIN, $14.99, ikea.com.au
15. RAGRUND TOWEL RACK CHAIR, in bamboo, $49, ikea.com.au
16. RAGRUND SHELVING UNIT in bamboo, $79. 163cm x 33cm x 28cm, $79, ikea.com.au
17. SAXBORGA TRAY, set of two, $7.99, ikea.com.au
18. KONSTANSE CUSHIONS, $9.99, ikea.com.au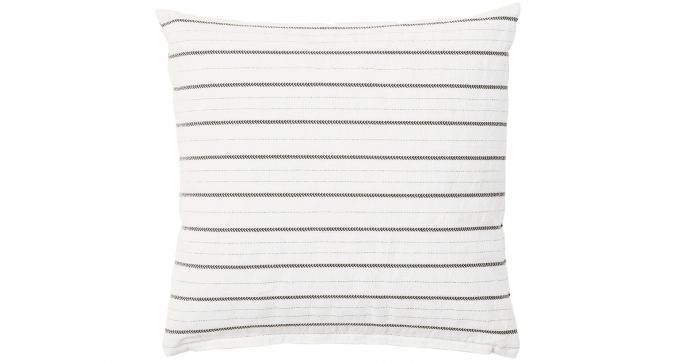 19. NORDRANA HANGING STORAGE, hand-crocheted, 35cm x 90cm $29.99, ikea.com.au
20. KAFFEBONA HANDWOVEN BAMBOO VASE, $29.99, ikea.com.au
21. VENNESLA TABLE MIRROR, 65cm X 79cm, $99, ikea.com.au
22. PAX MEHAMN WARDROBE, POA, ikea.com.au
23. JÄTTEVALLMO SINGLE QUILT COVER SET, $29.99, ikea.com.au
24. FJALLBO SHELVING UNIT, $99, ikea.com.au *below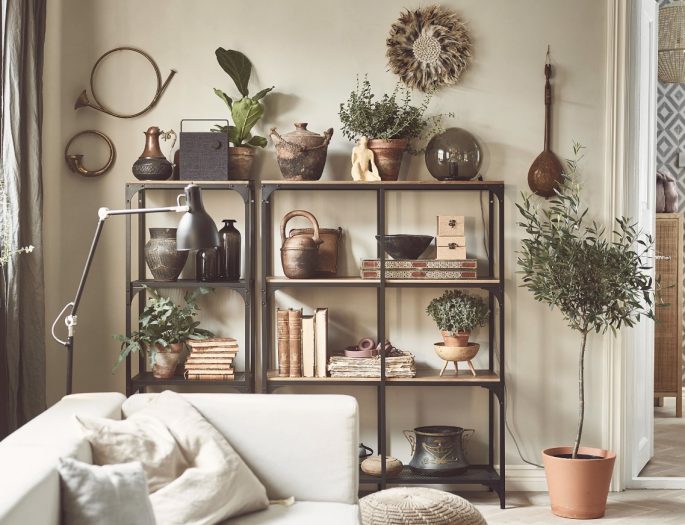 25. VARDAGEN GLASS GOBLETS, pack of four, $9.99, ikea.com.au
26. BESTA STORAGE COMBINATION WITH DOORS/DRAWERS, $460, ikea.com.au
27. GULSPARV CHILD'S QUILT COVER, PURE COTTON, $19.99, ikea.com.au
28. SLATTUM QUEEN UPHOLSTERED BED FRAME, The big theme of the catalogue is sleep, and we can totally get behind that. This bed is truly a steal and maintains a minimalism, luxuriousness, and full-on comfort, 156cm x 208cm x 85cm, $299, ikea.com.au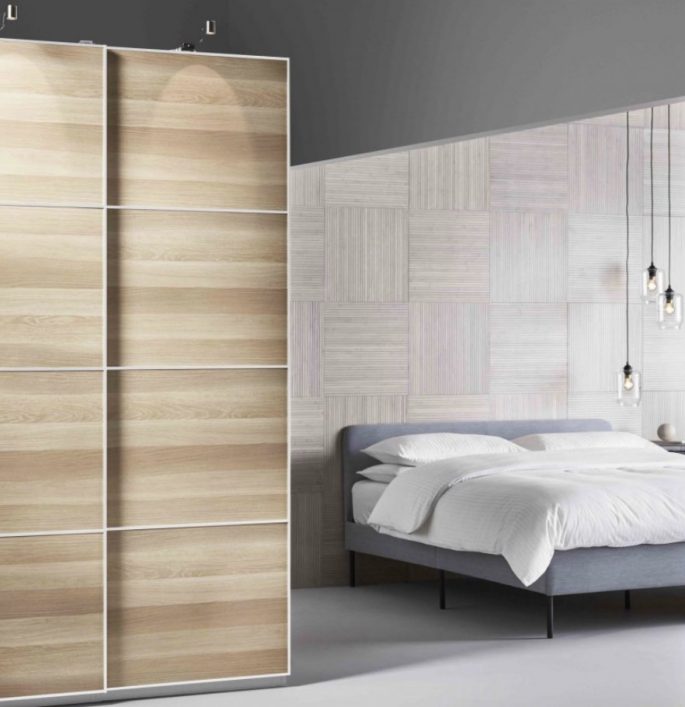 29. METTALISE CUSHION COVER, pure cotton, 49cm x 65cm in white and dark grey, $9.99, ikea.com.au
30. FLITIGHET 18-Piece dinnerware, microwave and dishwasher safe, $29.99, ikea.com.au
32. INGRUN THROW, 130cm x 170cm, $16.99, ikea.com.au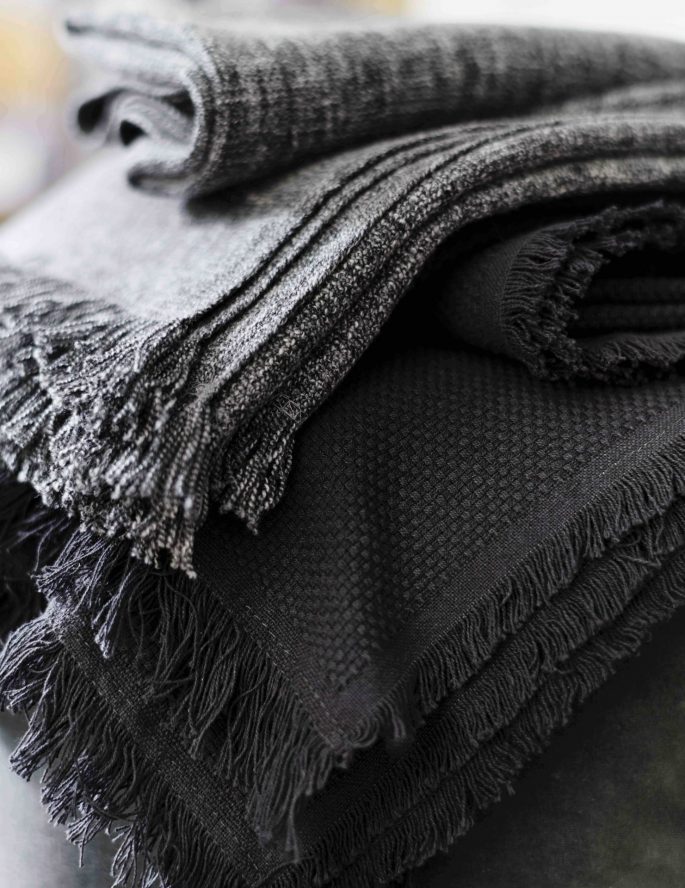 34. MATALSKARE wall-mounted rangehood, 42cm high, $299, ikea.com.au
35. MELLOSA picture ledge, in clear acrylic, 60cm x 10cm x 5cm, maximum load 5kg, $16.99, ikea.com.au
36. RÖMSKOG Underbed Storage Box, Keep your shoes and sheets tucked away in these stylish rattan storage baskets, $59, ikea.com.au
37. TJUSIG Hanger, $16.99, ikea.com.au
38. SAXBORGA storage box with mirrored lid, $19.99, ikea.com.au