Here's how via UK Elle Decoration's recent Great Big Decorating Hotlist report!
WHAT'S A POURED FLOOR?
It's a surface that is installed in-situ using a material in its liquid state, such as resin or concrete. The solution sets to form a smooth, solid and hard-wearing finish.
WHY CHOOSE ONE?
It'll help you to achieve a unified look in your home. Kasper Ronn Von Lotzbeck, co-founder of Copenhangen-based Norm Architects (normcph.com) has used poured floors extensively in his projects "They connect spaces and help the architecture flow in a way that modular types of flooring cannot," he says.
HOW DO I CHOOSE BETWEEN CONCRETE AND RESIN?
What distinguishes poured flooring products from others is the material that binds them. Concrete and micro-concrete (a thinner alternative) are cementitious, meaning they are bonded by cement. These materials carry a risk of cracking and have a high carbon footprint due to the amount of energy required to produce them, but do come with the benefit of an organic-looking finish. Resin floors are most commonly composed of one of three substances: epoxy, a low-cost option that is most suited to industrial use; polyurethane, a flexible crack-free material that offers comfort underfoot and colour that does not fade; and biopolymer, a natural option derived from plant oils. While biopolymer's performance is similar to that of polyurethane, it is free from toxic chemicals, and by mixing it with quartz and stones you can make it look like polished concrete.
DO YOU NEED A SPECIALIST TO INSTALL ONE?
Yes. Pouring a concrete or resin floor is definitely a job for the professionals.
HOW IS IT DONE?
In theory, a poured floor can be applied to any stable surface. A layer of screed – a mix of sand and cement – should be added above any underfloor heating pipes before the flooring is poured on top. The protective layer takes at least a month to dry out. Be warned: the most common reason for imperfect results is a finish being applied while the screed is still damp. For houses with existing floorboards, preparing the substrata involves taking up the joisted timber and laying a damp-proof membrane and plywood boards before screeding. This creates a strong, air-and-water-tight base. Then if you're using resin, the liquid is poured on layer by layer over a period of three to five days. For concrete, if your home is large enough for a floor depth of 100 millimetres and access for the machinery is required to install it, a slab can be poured into place in one go and power-trowelled, while wet, to create a smooth finish.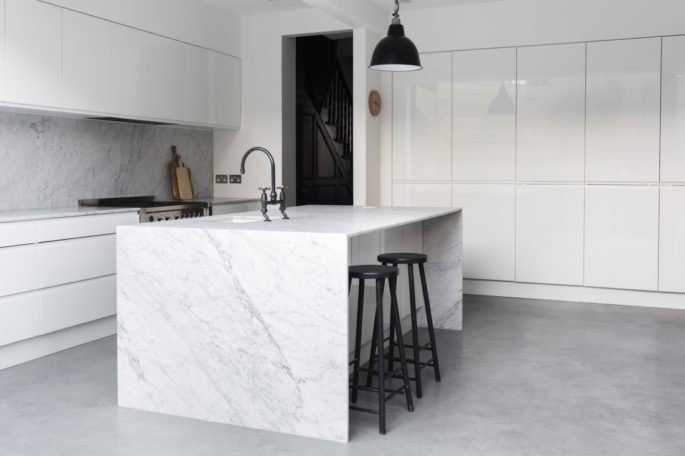 WHERE CAN YOU HAVE A POURED FLOOR?
In any interior space, it's not a great option for outdoors because once laid it can become slippery when exposed to the elements. A poured concrete floor is usually only suitable for ground-level installation because of the risk of cracking.
HOW DURABLE ARE POURED FLOORS?
They are stain and water-resistant, as well as being effective in absorbing sound, muting the click of heels. Concrete is much harder than resin floors: if you drop a glass on a resin floor it will bounce, whereas on concrete it would shatter. In terms of maintenance, a poured floor should be treated in much the same way as good-quality timber. To prevent scratching, avoid dragging furniture across it, and, to clean it, use a microfiber mop and a non-soap based product.  If that all seems a bit too much like hard work, opt for a biopolymer resin floor instead. This hardy option just needs to be re-sealed with a fresh top coat every 10 years or so.
WHAT COLOURS AND FINISHES ARE THERE?
Resins come in virtually any colour imagineable. Cement floors tend to be less vibrant but can be stained with pigment – the most popular are shades of grey. The floors can be buffed and polished to create a sleek surface or left with a more natura, matt look.
WHAT'S THE COST?
It is site specific, but generally considered an affordable flooring option.  However there is usually a minimum spend due to the logisitics and labour costs involved in the installation process.  Investing in a skilled professional is worth the cost.