By the time you're 30, much of your size and shape is set—you're not going to get shorter or taller, and though you're sure to gain and lose weight as the years go on, it's unlikely anything major will change. As such, it's important to have on lock which silhouettes look best on you. Are you a midi-length-skirt kind of gal, or do above-the-knee cuts flatter you more? Do you look good in boxy shapes, or is flowy your friend? Know and your 30s will be looking a whole lot more stylish 
By the time you turn 30, you ought to have a decent handle these things about yourself, on the jeans that flatter you most—not only flares vs. boyfriend cut, but also the hem length that looks best, and the core brands you know you can turn to for the best fit.  
This is probably a no-brainer,  but by the time you're a grown woman, it's crucial to know which colours are your go-tos when you need something that flatters your skin tone. Sure, it's ok to go outside of that box and experiment with colour, but it's nice to know with certainty (if you're online shopping, especially) if a shade looks good on you—or if it doesn't.  
 By the time you're 30, you should know yourself well enough to know which trends you want to pursue—and which ones you're happy leaving behind. This will change from season to season, obviously, as the trends themselves change, but if you know your own aesthetic well enough, it should be clear whether something is for you or not.  
WINE BOTTLES AS DÉCOR
Too downmarket for the 30-and-up-crowd.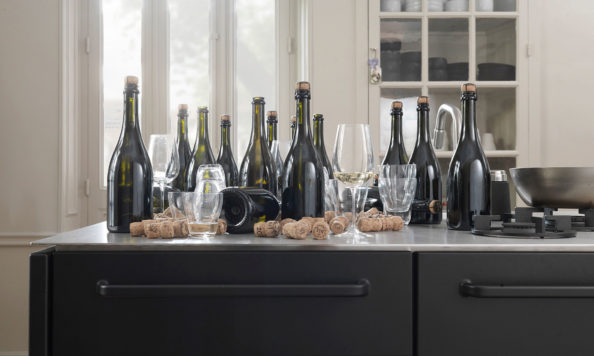 POSTERS WITHOUT FRAMES
Nothing says 'no idea' like unframed art dotted around the house. It's time to get custom frames that will define your art and make you look like an adult.
 SHOT GLASSES
That collection of shot glasses are only okay if you are still a student.
 A FUTON
The older you get, the squishier your bed should be.
 PLASTIC TABLEWARE
Childish, unless it's for a garden party.
 CUSHIONS BOUGHT WITH SOFA
They are uniform and dull. Buy different size cushions and play with size, scale and texture.
BIN BUILD-UP
Empty bins daily, even if they are only half-full. 
RATTY TOWELS
Don't hold on to stained, torn, thin, threadbare, cheap or tragic towels. Toss them out. Now go shopping for new ones, which cost very little.
 FOLDING CHAIRS
By the time you're 30, it's time to splurge on some real seating that feels a little more permanent than their fold-up brethren.
 BARE FLOORS
Invest in a rug to add texture, style and personality.
EMPTY MANTEL
Add flowers, art and accessories to add interest (and soul) to surfaces.
 UNMATCHED CUTLERY
Empty the cutlery drawer out. Everything mismatched should be chucked. So should anything old, worn, damaged, light,useless or bought as a souvenir. Out it goes.
BROKEN SAUCEPANS
Get rid of your aluminium saucepans, pans with loose handles, battered lids that no longer fit anything and no-stick frypans that stick. Be ruthless.
 AN UNMADE BED
It takes 60 seconds to make your bed every morning, and will help you start your day with an accomplished feeling.
 BROKEN SOFAS
Recognise when that clapped-out old sofa your parents gave you has hade its day and invest in a no-nonsense foundation sofa – the way you'd buy a tailored, timeless suit.
LAMPS WITHOUT SHADES
This is probably a no-brainer, but by the time you're 30 there's no excuse for lamps with bare bulbs.
ACCENT WALLS
Instead of enhancing a space, they seem to do the opposite. 
CRATES AS FURNITURE
You want to be able to put a glass or book down without thinking but do we really need to explain?
 PLASTIC SOUVENIR CUPS
If you have collected plastic souvenir cups branded with bar names, theme parks, family reunions, and corporate sponsorships over the years, and they are still your go-to drinkware, it's time to upgrade.
 EXPOSED BED BASE
By the time you turn 30, you're going to want to splurge on a tailored valance which will also offer hidden storage opportunities beneath your mattress.
CHIPPED GLASSWARE
Use proper glasses: flutes for champagne, goblets for wine, tumblers for water, etc.
OLD CHARGERS THAT DON'T BELONG TO ANYTHING
Gather up any random chargers that are cluttering up your shelves, and try to match them to the technology in your home (wireless speakers, the dust buster, etc.). If you cannot find a single item that you still own and use that can be charged by the charger in question, toss it.
OLD COFFEE-STAINED MUGS
By the time you're 30, it's time to set your cabinets free of every random, chipped, coffee-stained mug.
 BROKEN HEADPHONES
Throw them out.
OLD DUVET COVERS
If the same duvet cover has been on your bed for 10 years, it's time for an update.
TAKEAWAY MENUS
Bin, bin, bin. Go online.
 UNSORTED WASHING
By 30, it's time to stack, sort and fold dry washing and put it away.
 IMPERSONAL ACCESSORIES
At this stage in the game, you should have amassed a collection of décor items that reflect your interests and sense of beauty. If you still have random knick-knacks decorating your shelves (as opposed to sentimental ones, which are fine), now's the time to get rid of them.
PAPER BLINDS
They're great if you need a quick-fix but never a permanent window treatment. If custom shades aren't in your budget, opt for a chic, ready-made, woven bamboo blind in a standard size larger than your window frame.