Buying outdoor furniture is almost as exciting as buying your house and garden. Before you rush out to shop, take the time to work out the best all-weather pieces for your terrace, courtyard, deck or balcony. Here are five things to know before you choose the best outdoor furniture for your home:
1. Cheap Furniture May End Up Costing You More:
When you start shopping around on the internet for outdoor furniture, you'll notice that there's a huge range in prices. At the high-end are retailers like Space who sells B&B Italia and at the more affordable end of the market are hardware stores such as Bunnings who offer faux wicker armchairs for around $175. Read more, 'The Bunnings Outdoor Chair That Will Make Your Jaw Drop.'
In the long run, it's cheaper to buy the best you can afford.
The Lesson: Though it may be tempting, don't automatically go for the cheapest price you can get on outdoor furniture. The bargain pieces tend to be lightweight and flimsy. Although we have all-weather wicker furniture from our local hardware store that has weathered severe climate conditions over many winters, that we love – so this is by no means a blanket recommendation. Read more, 'Best Rattan Chairs Under $500.'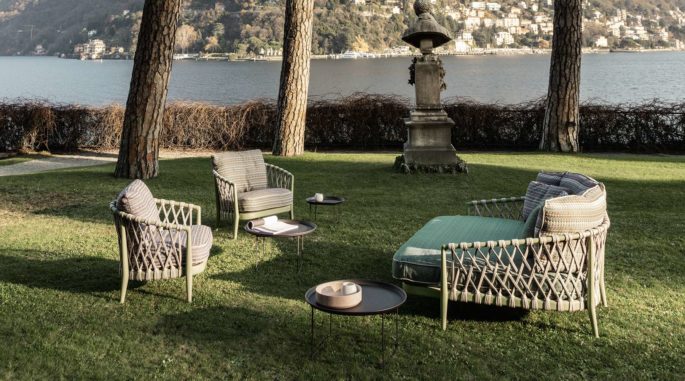 B&B Italia Outdoor 2019 Range pictured at a private residence in Lake Como, www.bebitalia.com
2. Some Chair Legs Are Too Skinny For Decks:
Don't buy seating that slides around every time you sit down. Or sectional sofas that are so lightweight that, unless you sit down very gingerly, the seats slide and the cushions skate.  Or legs that could easily sink into the gaps between the deck's timber planks. You don't want to be vigilant about placing the chairs just so and constantly having to remind guests to do the same. It's not the best setup for spontaneity and fun. Read more, 'These $399 Designer-Look Chairs Will Instantly Elevate Your Terrace.'
The Lesson: When shopping for an outdoor dining set for a wooden deck, consider the chair legs and make sure they won't get trapped in a gap when you pull the chair out.
3. Some Outdoor Furniture Materials May Be Wrong For Your Space:
Here's a list of the types of materials you'll find when shopping for outdoor furniture: teak, hardwood, stainless steel, aluminium, wrought iron, wicker, and synthetic resin. Each material has pros and cons that make it ideal for certain climates and outdoor situations and not for others. Consider the various metals, for instance. Aluminium is lightweight, which means it's not great for areas that can experience high winds. Stainless steel is heavy and low-maintenance, but it can get very hot when placed under the sun, so it's not ideal if you are planning to leave it exposed.
If you live in a particularly wet climate, you may want to skip wood furniture; even teak, a durable and "all-weather" hardwood, will need to be treated every year to protect against cracking and warping.
As for natural wicker pieces, they're intended for covered outdoor spaces as they can't really stand up to the elements.
Synthetic resin wicker furniture is a better option if you like the style and want to use it outdoors. Read more, 'High/Low: Meet the Wicker Outdoor Chairs You'll Use Now and Love Forever.'
The Lesson: Just because you find it in the outdoor furniture section doesn't mean it's right for your outdoor situation or climate. Do your homework and make sure the material you choose suits the weather in your region and the level of exposure to the elements. Will the furniture be in the shade or protected under a roof or in direct sun? Read more 'Architect's Top Outdoor Furniture Picks.'
4. You'll Need a Rainy-Day Plan for Rainy Days:
It's outdoor furniture, so it should be fine in the rain. Not if you're dealing with cushions. Don't think the cushions on your sofa are weather-proof and will simply repel rain. To a degree, that is what happens, but when it's truly raining, as opposed to misting, you'll want to protect your cushions. A mistake that led in the short term to soggy, heavy cushions that take forever to dry, and in the long term to mildew.
A few protective tactics, from best practice to at-the-very-least: Bring them indoors, put them in an outdoor storage box, stand them up vertically but at an angle so that they repel water. As for the base and cushion-less pieces, consider buying protective covers—particularly for wood furniture.
Oh, and never pay big money to follow trends.
The Lesson: Outdoor fabrics are durable and water-repellent, but not waterproof. Be sure you protect cushions during downpours.
5. Place Outdoor Furniture Out Of The Line Of Fire:
Outdoor furniture under a large tree? You might notice a few blobs of bird droppings or berries. The stains might be hard to remove.
The Lesson: Look up, and consider what may fall onto your outdoor furniture. Does your spot get a lot of birds overhead? Is there a tree that sheds berries that may stain? If yes, you'll definitely need to plan to protect your furniture. Or find another spot to put it.
This story is a modified version that appeared in US blog, Remodelista.