The best dining table for you will be one that works for your budget, is solidly constructed, fits in your space and has a style you'll love for years. There are some core factors you should consider when choosing a good one. First, be wary of giving into trends, says Christophe Pourny, a master furniture restorer and the author of "The Furniture Bible," who noted that a good table should last at least five to 10 years.
"If you get something too funky, with too many weird details, one day you may wake up and wonder what you were thinking," he said. "Keep it simple and sturdy."
Along with affordability and a timeless style, stability and construction are important to look for when inspecting tables at furniture stores. Think about how it feels to sit at one of those tables, whether it will be comfortable for long periods, and examine floor models for signs of wear. Look for nicks and scratches that may indicate how the tables would endure through serious use at home.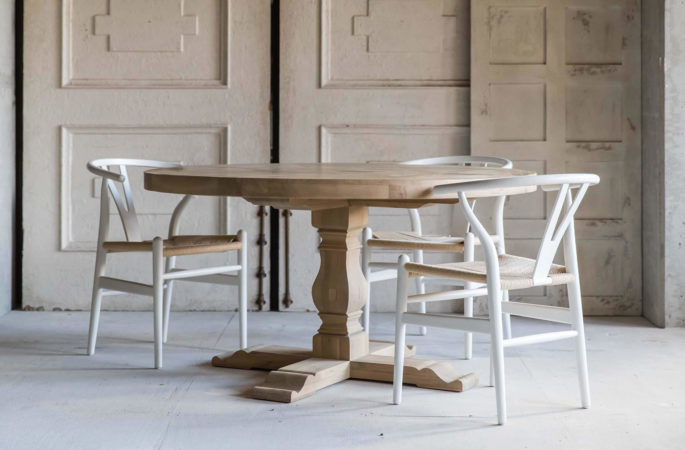 MCM House Florence Round Dining Table, in Natural finish, available in 3 sizes starting from $4750, mcmhouse.com
Use your measuring tape:
The number one rule: Your dining table has to fit your dining area. But a dining table is a deceptively large piece of furniture, and you need to account for space around it, too.
In addition to the footprint of the table, you'll want almost one metre of breathing room on all sides — and more is better — to comfortably sit in a chair and move around the space. So whether it's part of a multi-use space or a separate dining room, start by measuring the length and width of the area you can dedicate to the dining table. Then subtract about 1.8 metres from those two measurements to get a target dining table length and width.
Next, think about how you're going to use the table. Each place at the table needs around 56 centimetres of table space and larger-scale chairs will require more.
As a longtime apartment-owner, we've found that the "visual weight" of a piece of furniture can really influence how big it feels in a room. It may technically fit, but it'll seem huge if it's a dark or bulky piece or if it's too close to other furniture.
To visualize how a bigger piece of furniture will look, take the time to block out the length and width on the floor (I like to use painter's tape), and also the height of the table. We usually stand on our tape corners with a tape measure, then try to fill in that space with furniture of a similar size (like a couple of chairs), and take a step back to see how it'll feel. It also helps to have a friend stand there with the tape measure while you have a look.
If you're tight on space, consider options like leaves that allow the table to extend. These let you customize the table for different entertainment needs and party sizes.  
Avoid too many mechanisms or leaves that are attached or hidden within the table (versus stand-alone leaves). If you buy things that are too complicated, it's just more opportunity for something to fail.
Consider your needs before settling on shape:
Square and rectangular tables are the most common, so you'll find the greater number of choices there with styles, sizes and extendable options. But a round or oval table can give you a little more space to move around since it cuts off the corners but still has a good surface area.
For tighter, rectangular spaces, the oval might be the best option. Round or oval tables can be great for parties and conversation because there's no head of the table, too.
In terms of squeezing people in, you're only limited by the perimeter of the table — but you can lose a little space for serving pieces once you have all your place settings at a round or oval table.
Pay attention to the table supports:
The base — usually legs, a pedestal, or a trestle — can have an effect on how many people you can fit at a table. You just want to be sure the leg space isn't being invaded by the supports.  When you see a table in person, sit at it to see if your legs hit the table's legs. Verify you have enough space for your knees when you scoot all the way in, and if you can cross your legs underneath the table. The apron — the frame that holds up the tabletop — can cut down on your room to maneuver.
If you want to be more flexible with your guests, pay attention to the leg width and where the legs are placed.
In general, a table with thinner legs, or where the legs are at the corners, will make it easier to squeeze an extra chair in. Remember, a leg table is generally limited to how long it can be extended without bowing in the middle.
With a pedestal or trestle table, you have more flexibility to add more people to the table. A centre base is the best option to squeeze people in. But be wary of larger round pedestal-style tables because they can be a little less sturdy than those with four-legs.
Trestle tables can give you flexibility along the sides of the table, but can limit space at the ends of it. Look closely at how much space there is between the edge of the table and where the trestle supports are attached to make sure there's room for your knees.
Choose the right table materials for your style:
Choosing the material for your dining table can be difficult. You have to balance price, ease of care, and your personal style to choose the right one, and a table that's not a good fit on any of those could mean a buying decision you regret later. Here are the most common materials, and what to consider for each:
Wood: Solid wood is a classic material because it is durable and easy to repair. Pine, acacia, mango and teak are popular, less expensive options. Solid wood is the most popular, though it's often the most expensive. Manufacturers have been working to bring down the price of solid wood — Ikea has an unfinished solid pine table for just $99, but larger ones from other retailers can cost $1,000 or more.
Wood expands and contracts with heat and humidity and can show scratches and wear, but is fairly easy to repair.
Veneer/Wood-Look: Wood veneer is often a more affordable alternative to solid wood. Here a very thin layer of solid wood (or material printed to look like wood) is glued to a plywood or other wood core. To identify good veneer, look for tables with clearly-labeled core interiors, like kiln-dried hardwood. One way to spot cheaper veneers is to look underneath the table at the store. "If just the outside is finished, but the underneath looks like a different material, the manufacturer is cutting costs," Mr. Dyer suggested.
"Make sure particleboard says it's CARB compliant, which means it's passed emissions tests," said Thomas Russell, senior editor at industry newsletter Furniture Today. And you can always ask the salesperson exactly what the table is made of — if they're not sure, that's a red flag, says Mr. Dyer. You can expect to pay under $500 for a less expensive veneer, but the higher-end ones go into the thousands.
Stone and Stone-Look: Stone tabletops can include marble, quartz composite or cast stone (like cement). Stone is durable but can be porous and can absorb stains easily. "Depending on how it's made, it can chip or crack," said Ms. Hirschhaut, and once that happens, it can be tough or impossible to repair. They can also be quite heavy. The price of stone can really vary — cement-topped pieces can be under $500, but marble-topped ones will run into the thousands.
Glass: Glass tabletops can include clear, frosted or tinted versions. They're relatively inexpensive and "can create a feeling of space and openness. Though glass isn't susceptible to moisture, it can chip, scratch or crack from heat. It also shows every fingerprint. A good glass table top can last decades if you're not too clumsy, but it will start to look bad quickly if you're prone to chipping the edges or scratching the tabletop. You can find large glass-topped tables under $750.
Metal: Metal, including stainless steel, brass, zinc and lacquered or painted versions of these, is used more frequently for table bases than tops. Metal is durable and not easily damaged. But because of its higher-shine, it shows every fingerprint and can require special cleaning tools. Also, painted metals can be hard to repair. These can be less expensive than wood tables, though it's rare to find an all-metal dining table beyond utility tables.
Plastic and Laminates: Man-made materials, either molded into a shape or glued onto plywood or another core, are an inexpensive option. "They can last a long time, but aren't considered the nicest quality material," Ms. Harris explained. These materials tend to resist staining and require little upkeep, but they're often perceived as cheap.
Check for sturdy, reliable construction:
A good dining table will be sturdy and well-made, with a finish that withstands heavy use and shows little obvious wear. The material is a major part of good construction, but a table is only as good as the joinery," Mr. Dyer said.
The joinery is the industry term for the places where the base and tabletop fit together — the more solid this is, the longer the table will last.
Look underneath the floor sample at the store: Wood joined directly with wood is very strong; too many attachments and hooks can weaken the construction. In general, simpler is better. Look at the connection points where the legs meet the table tops and at the corners — if the pieces are starting to separate, you see gaps at the corners, or it's wobbly when you move it, it's not well constructed. And beware of really inexpensive tables: They could be held together just with staples and glue. A note on chairs for your new table: If you don't have dining chairs already, the most important thing is to make sure the new ones fit at the table. Read more, 'The Most Drop Dead Gorgeous Dining Chairs.
People used to always buy tables and chairs as sets, but don't do that as much anymore. If you're starting from scratch and buying online, try buying as a set, but if you're in-store, you can try out different floor models. Feel free to mix and match. In a small space, it's a good idea to buy extra chairs and use them in other rooms when you don't need them at the table to save space. *Lead image MCM House Florence Round Dining Table, in Natural finish, available in 3 sizes starting from $, mcmhouse.com