The bateau lit sofa in the living room at our country house was part of a set, but it was expensive, so a friend and I both chipped in — I took the sofa, she got the two armchairs.
You don't need to whizz off to the shops
Rearrange what you've got. Move paintings, tables even china from room to room.  Change the furniture arrangement, reupholster exisiting pieces, paint wood furniture the same colour. Shopping at home can be your most inexpensive resource. Read more, 'How To Decorate: Making A Big Impact on a Small Budget.'
Shop wisely and well
To avoid making hasty or compromise decisions you'll repent at leisure. When you have a budget, it's easy to buy things for the price, rather than buy good things. If you buy a bad sofa, for instance, you will always want to replace it as soon as you can.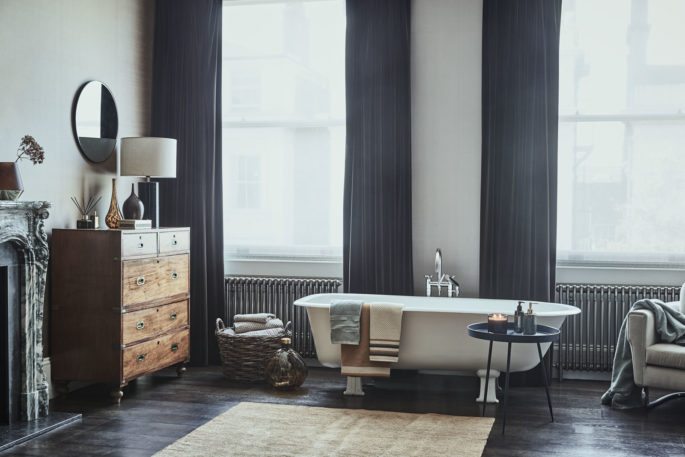 Visit auction houses because they have sales
A good place to snag bargain antique furniture, paintings, mid-twentieth century design, good porcelain, jewellery, etc. I recently picked up a pair of English upholstered library chairs covered in Benison linen for $50 each (value $1000 each), a French writing table with antique white paint finish for $150 (value $800) and a French painted sideboard for $700 ($8000).  
Pull it all together with affordable accessories
Inexpensive Chinese porcelain, woven trays, placemats, and tableware can really stretch a budget and still get the last layer of personality. 
Choose affordable art
Seek out reasonably priced online sites like Easy Art or 20×200. And for maximum impact, hang artwork en masse in a group rather than scattering it around a room.
Look at the shape of furniture before you look at the fabric
Don't fall madly in love with a $700 sofa from a vintage store just because you happen to love the navy velvet. Remember: you can refinish or reupholster anything.  Read more, 'Style on a Budget: 5 Sources for Good, Cheap Fabric.'
Love something? Buy just one
Beware of duplication. Don't always buy the same thing. For instance, you have a stunning coffee table you love. Then you see a gorgeous brass side table that resembles it. The coffee table won't look as special if it has a matching design.
Outdoors or indoors?
It doesn't really matter.  The stone plinth and urn is a garden ornament, and it's really heavy but just because something's meant for outside doesn't mean it can't be used indoors to great effect. 
Clean up week is Great Fun
You'll be amazed at what people throw out. There are often better chairs in council clean-up weeks than in shops selling new furniture.  
Mix cheap and expensive
A great rug can make a chainstore sofa look a million dollars.  Read more, 'How to Live the Good Life on a Budget.'
When buying inexpensive items simple things are safest
Cheap things usually go wrong when they are tricked up. Look for household staples in your colour palette.  
Think of bargain shopping as a treasure hunt
And apply your usual quality standards. Enjoy looking for the gold among the dross. Don't pay top dollar for things you know you'll see on sale. Wait for the big sales for items like sheets, towels, china, cutlery, glasses, knives, pots and pans.  Read more, 'The Bargain Hunters Guide to the Good Life.'
Asian discount shops are a necessary stop for canny decorators
You'll find things here that wouldn't look out of place in the grandest boutiques in New York or London. You'll dig deep for treasure but it's worth it. Go to areas in your city where there's a critical mass of these shops, so you can compare and contrast. Most of what you'll find will be rubbish but 5 per cent will be pure gold – the sort of artefacts that make a home unique, and for a tiny price. Plant stands, trays, tables, chairs, woven placemats, Asian porcelain figures, storage boxes, storage containers, wicker coasters, noodle bowls, glassware, oil pourers, ceramic vases, stoneware plates, teapots, white towels. Look for natural textures, muted colours and minimal decoration.  
Shop Around
Take the time to see what's out there. You can find really old pieces at secondhand stores. Try revamping them. Get a piece of marble, glass or granite cut down to size and put it on top of a table or give a world-weary old chest or commode a coat of paint and new handles.  
Mix quality pieces with less expensive finds
When it comes to collecting, not every piece has to be precious. It's much more important to find things you truly love. That is the point of collecting. On my desk at home, I have a collection of Eiffel Towers, some expensive and some from souvenir shops. I love them all because they remind me of Paris.
Go for Gallery Glam
Give a humble piece of art the appearance of a masterwork with oversize mounting and framing. When surrounded by a 15cm mount a small print will look important. Mount an object as simple as a shell, vase, mask, or sculpture on perpex plinths, blocks, and stands, to make them look like something out of an art gallery. Also consider investing in original artwork by local up-and-comers and find out when art colleges are having student showings of original works at affordable prices. Read more, 'How To Display Your Collections.'
Jazz up a shower curtain
Store-bought shower curtains often ride high above the floor, awkwardly revealing part of the tub. Simply sew a deep fabric hem in something snazzy at the bottom of the curtain to create a couture look. 
It makes economic sense to start collecting something that is out of fashion, or has not yet become a fad. Be original. We know people who collect cade stands, rattan tryas, brooms, convict bricks, and books will silly names. They're all fascinating.  
Do a Chuck Out
Before you start worrying about what you can and cannot afford to buy, consider what you should get rid of. Dated, worn, or damaged items could be doing the look of your home a disservice, and if they're non-essential, removing them can give your home a clean slate. One of the worst offenders in rental apartments is vertical blinds. Or those  college posters you've been holding on to? Bin, bin, bin. Read more, 'Clean and Clutter-Free in 15 Minutes a Day.'
Throw in Some  Black
No matter what style your interior—modern, traditional, or eclectic—introducing a black element such as a piece of furniture, painting, lampshade, or accessory will add instant edge. 
Go Neutral
Choosing classic pieces in neutral colours will enable your furniture to have a long and diverse life. Neutral items can be moved from room to room throughout the years, and by switching accessories, cushions, lamps, throw rugs, art, they can easily be transformed when tastes change. Opting for versatile items in neutral colours and finishes means you'll only have to incur a high cost once, rather than every few years.